January 2016 has come and gone. Already.
I'm pleased to report that I'm making progress on some of my goals for 2016!
Flossing
As silly as it may sound, I'm excited that I've finally developed the habit of flossing regularly! It seems that nearly every year, one of my New Year's Resolutions is to start flossing. For the first time, I feel like I've actually made some progress with this habit! My husband helped me achieve this goal in two ways:
1) He suggested starting small, alternating the upper and lower gums each night. This helped me to realize it really does not take much time AT ALL!
2) He introduced me to the
Rewire
app, which gave me reminders each night right as I was getting ready for bed.
For the month of February, I'm using the Rewire app to help me develop the habit of walking on the treadmill with JoJo four times each week.
Reading
David and I both decided that we wanted to try to read one book per month this year. We both love to read, but aren't always so great about making the time for it. My book for January was a fun read:
These High, Green Hills
by Jan Karon. This book is the third in the Mitford series, which a dear friend introduced to me last summer. I find I savor each page, one of my favorite feelings when reading a good book! I'll probably hold off on book four, the last in this series because I'm not ready to be done with Mitford quite yet.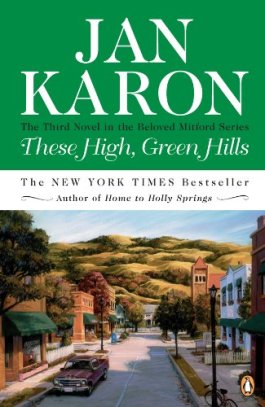 Prayer Partners
Upon graduating from college, my mentor encouraged me to find a prayer partner. Although it has been quite some time since my college graduation, one of my friends and I have begun to pray twice each month over the phone for each other's families. Already, we've seen some encouraging answers to prayer. I'm excited to see how God continues to work in our lives through our time of praying together this year.